Topics
Invitation to Nippon Violin Winter Fair 2022
2022.11.24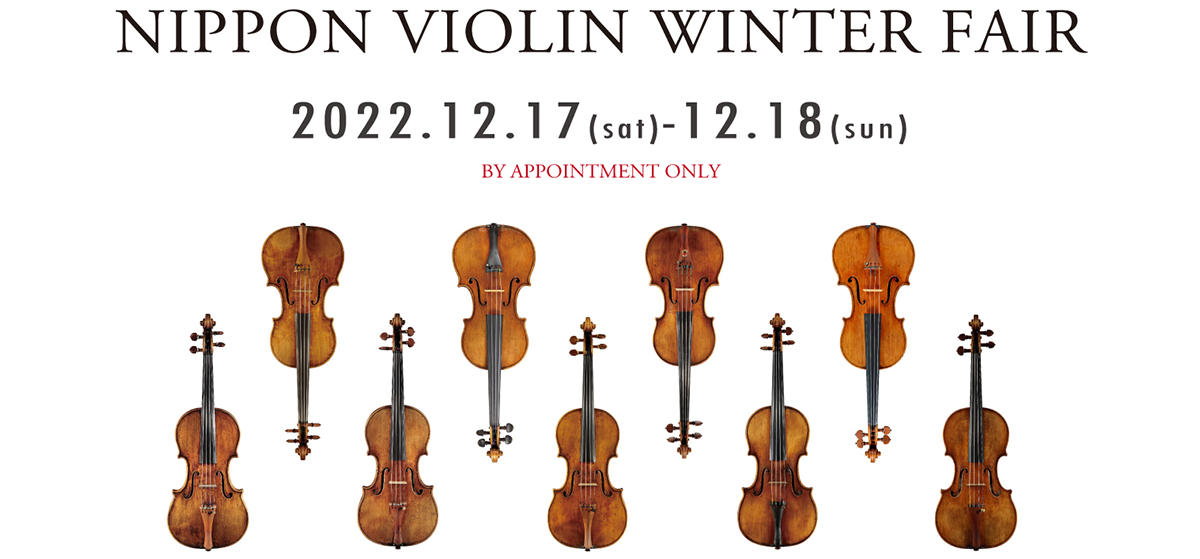 On the 17th (Sat) & the 18th (Sun) of Dec 2022, 11:00 – 19:00 (- 18:00 on the 18th)
At Nippon Violin Art Salon (4F of Nippon Violin Head Shop)
Receiving high reputation and expectation from our customers every year, we have successively planned to hold the "Nippon Violin Fair" for this winter.
In the fair, besides strictly selected authentic modern and old Italians will line up, many high-quality violins, up to 5-million-yen level, will be there for special price-set sale.
If you are considering purchasing a new violin, please put it into your options to visit us for a new one at this opportunity.
At the exhibition of this fair, every instrument will be ready for your trial play.
For your trial not to be disturbed by other sounds, up to two groups will be allowed at the venue for every one hour. Please look the following details over and make an appointment. * Depending on the dealing negotiations, your and/or other's appointment time may possibly be a little behind the schedule. We hope we will have your good understanding.
All of our staff will welcome your visit from the heart.
※ Instruments to be exhibited (presently) include:
J.Rocca 1855-60, M.A.Bergonzi, J.F.Pressenda, Nicolo Gagliano, J.B.Vuillaume,
L.Ventapane, T.Eberle, J. Gagliano, C.G.Oddone, H.Fagnola, R.Antoniazzi, C.Candi, E.Marchetti
And many other old/modern/new Italians, etc.
※ Celebrated violins, including "Stradivari," will be exhibited at a special room.
▽Please make an appointment by email in the following form.
Information on your favorable price level will greatly help us.