Appraisal Of
Instruments
Reliable Appraisal of String Instruments & Bows
With experience that we have handled more than 30,000 old string instruments and our data archive, Nippon Violin provides clients with appropriate appraisals taking the current world market prices into account.
Our data archive includes information, references and photo archive of more than 5,000 old violins which came from William Moennig & Son, which used to be the top instrument dealer in USA (1909 - 2009) and was acquired by Nippon Violin last year.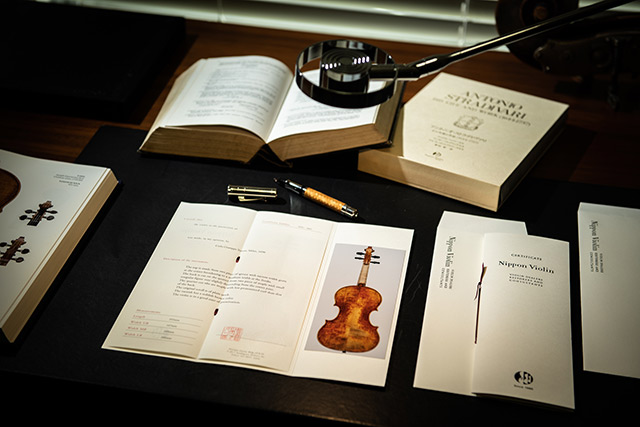 If you request, Muneyuki Nakazawa, who is the founder of Nippon Violin and has got high reputation of the international level as a restorer and dealer of string instruments, will be glad to provide appraisals of instruments and bows.
When you request his appraisal, please ask us in advance as there is some need to arrange schedules.※William Moennig & Son started its business in Philadelphia, USA in 1909, and was one of musical instrument companies with the longest history in the USA, of which client list included worldwide renowned musicians like Jascha Heifetzas, Isaac Stern and Fritz Kreisler.
The musical instrument company with long history handled over 5,000 violins during its business time of 100 years, and their photos and references that show owners of the past have been acquired by Nippon Violin.
Flow of Appraisal
In appraisal procedure, it is necessary that Muneyuki Nakazawa directly touches and sees a concerned instrument. Please be aware that information by email or on photos/phone alone would not lead to appropriate appraisal and is not acceptable.
Make an appointment by photo/email. ※Please be aware that we cannot necessarily meet your request of date and time.
Bring the concerned instrument/bow at the appointed time.
Muneyuki Nakazawa appraises it. (1 hour max.)
If you request a certificate, we need to have the instrument at our hand for photos to be taken for the certificate. (1 week max.)
About one week after returning the instrument, the certificate will be issued. (We will deliver it to your place if you request.)
Price of Appraisal
Oral result announcement: 11,000 yen
Issue of our original certificate,「Muneyuki Nakazawa & Son」 Certificate:3% of appraised value of the instrument
Fee of photography (3 cuts: front, back and side) 6,600 yen
※ Please be aware that the price rules above will be slightly different according to price levels of instruments.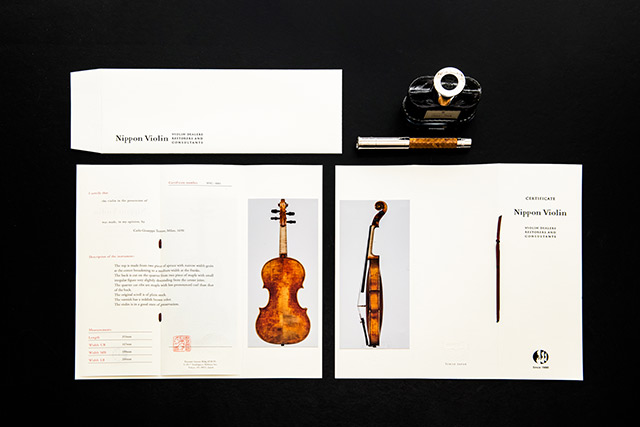 Requests / Questions
Requests or questions are also accepted online.