Topics
Cooperation in the KRUG music project "KRUG ECHOES" - the very first collaboration in Japan (KRUG × Iwao Furusawa × Stradivarius)
2021.08.18
In this project, three pieces of music were composed (and played by Iwao Furusawa) to match the respective impressions of three types of KRUG champagne (KRUG CLOS DU MESNIL 2006, KRUG 2006 and KRUG GRANDE CUVĒE). Nippon Violin chose three Stradivariuses from a great many violins and paired each of them with the respective types of champagne above.
The three pieces of music composed by Iwao Furusawa can be listened to on the following KRUG official website. Please enjoy the world of KRUG, the most prominent champagne × Iwao Furusawa × Stradivarius.
https://www.krug.com/jp/krug-lovers/iwao-furusawa (part of KRUG official website)
【Pairing of 3 types of KRUG champagne × 3 Stradivariuses】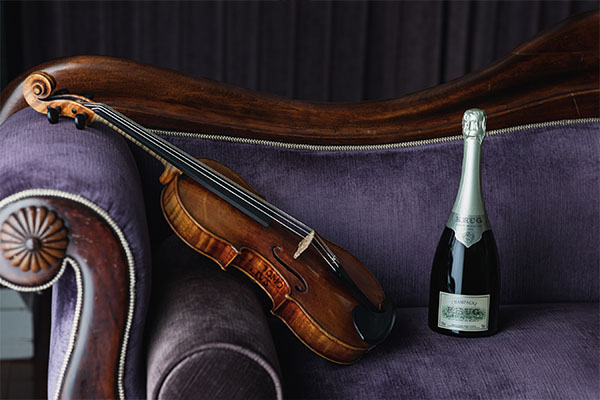 KRUG CLOS DU MESNIL 2006 × "San Lorenzo" 1718
A violin that is said to have been made in Stradivari's "golden period."
On its rib, there is a Latin message sculpted by Stradivari himself, "Glory and richness are in the house." It is the one and only violin that holds Stradivari's his own writing among the currently existing 600 Stradivariuses.
Mr. Furusawa, who is promised to be loaned "San Lorenzo" for the rest of his life, says "The more I play it, the more its sound withers. But just touching it gives it power to sound well." Its rareness and outstanding character were thought to match KRUG CLOS DU MESNIL.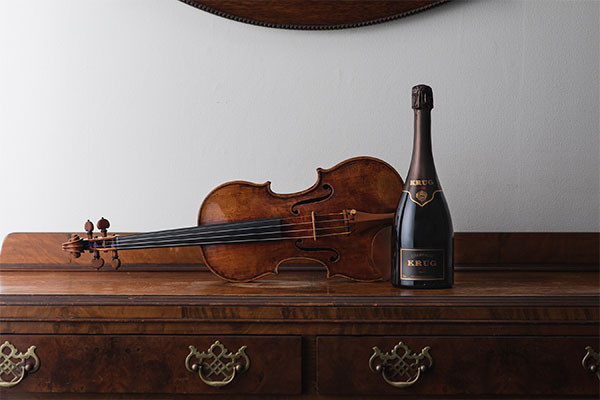 KRUG 2006 × "Red Diamond" 1732
A violin that is said to have been made in Stradivari's "late period."
According to a written record by an owner in the past, much of Stradivari's original varnish still remained, reminding people of red diamond, so it was called "Red Diamond." Reflecting the fact that Stradivari made it at the age of 88, it possesses toughness of the experienced craftsman who had overcome every hardship in his life and capacity to seek for more of supremacy, which was thought to match the vintage.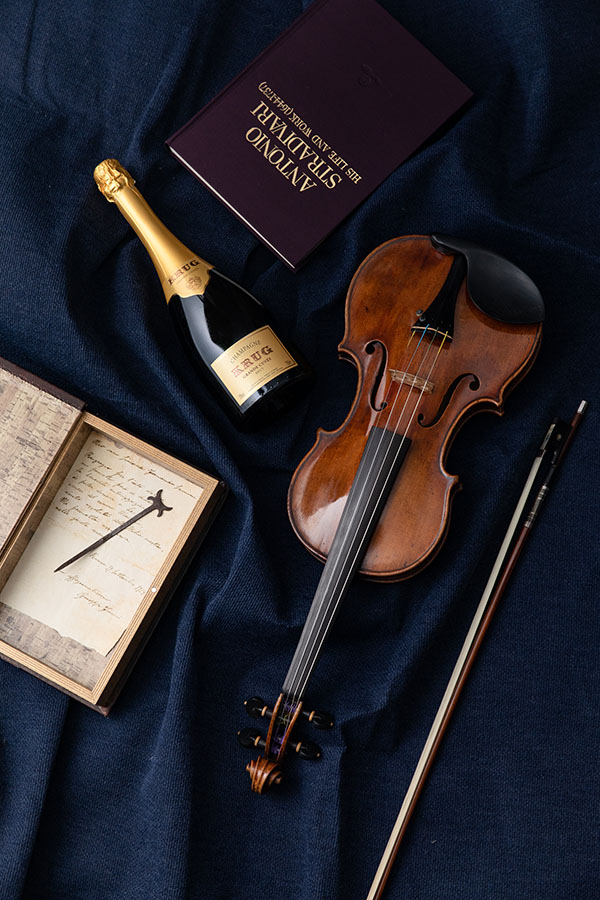 KRUG GRANDE CUVĒE × "Rainville" 1697
A violin that is said to have been made in Stradivari's "challenging period."
Every year this violin is lent to an international violin competition winner, so it has taken in tones of artists from various generations. It is the very allure of Stradivarius, and was thought to match GRANDE CUVĒE, which represents the very characteristics of champagne.